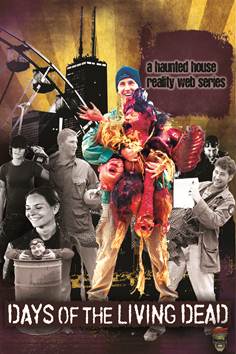 From BuyZombie.com
Days of the Living Dead Season 3 premiers Thursday September 15th.  Your exclusive look into the depths of Zombie Army Productions is back with Season 3 of Days of the Living Dead. Peer into the twisted world of the 2 billion dollar Haunted Attraction Industry from conventions to parties and go behind the scenes of Chicago's #1 rated haunted house, Statesville Haunted Prison.
This season features appearances from many horror icons, including Robert Englund and Michael Rooker. Also, how do John's younger brothers handle the pressure of being in charge after the company nearly fell apart?
The Cult of the Great Pumpkin claims, "Once you watch a couple of episodes, you'll be hooked."
Visit daysofthelivingdead.com for more!